Are you suffering from a broken heart or the pain of rejection by a partner
you believed would be with you forever?
Does it seem impossible to see a future full of joy and happiness?
Are you tired of going through the motions of your life knowing that there
should be more than this? Are you disillusioned, feeling hopeless or
helpless and unsure where to turn?
It's your life … are you truly living?
Let me ask you a question?
Do you want to leave the pain of the past behind and live your life to the full?
To finally discover the secret to living freely without fear of judgement or rejection?
If you have suffered a broken heart or the pain of rejection by a partner you believed would be with you forever, it can seem impossible to see a future full of joy and happiness. It can feel as if you have been cast adrift with no anchor, unsure and overwhelmed by the changes you are facing and yet paralysed and powerless to know what to do next. Your self esteem is in tatters and you have lost your identity.
Who am I without this person; this life we created together?
Perhaps your pain has overflowed into anger and rage.This may the only way you know how
to cope with the loss which took you by surprise and shattered your life.
After the breakdown of a relationship, those around you who care about you will tell you to 'Move On', or to 'Let it Go'. But how do you do this when your partner has been such a huge part of your life? When you have made plans for a future together only to see all your hopes and dreams disappear out the door with them?
Letting go can be one of the hardest things you will ever have to do
We all need something to believe in
You have you and believe it or not, you are all you need.
It may not feel like you are enough right now but you can learn to move
BEYOND THE PAIN
and put you at the centre of your life.
And as you do so, you will transform your perceptions, your actions and ultimately your life.
"I remember the overwhelming sense of relief I felt when I first understood that I didn't need to live with the results of the past but could write a new story for myself. It brought tears to my eyes and a smile to my face which let me know I was stronger than I realised."Lee – Auckland
How would it feel to free yourself from pain, anger, grief and despair?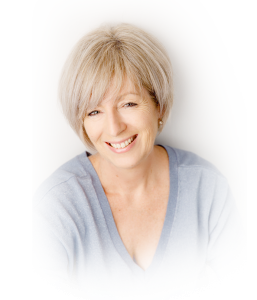 Hello
I'm Allanah Hunt, Author of BEYOND THE PAIN and Founder of POWER AND FREEDOM
After getting married at 19, having two children by the time I was 21, divorcing 20 years later and then a subsequent six year relationship ending, I decided to take my own experiences together with those of the women I have interviewed and turned them into a positive tool to help you.
I spent many years of my life holding on to ideas which kept me stuck.
Believing ….
I wasn't:
strong enough
smart enough
attractive enough
If only I was:
Then my life would be better!
It's okay for those people … but I can never be like that.
They haven't lived my life so they don't understand how hard it is.
I had so many excuses for my life
I never had the right opportunities
No-one understands me
I have been hurt too many times before
But then I learned something
I learned that in fact I already had everything I needed to transform my life. I didn't
need to wait for a fairy godmother to come along and wave her magic wand. The magic
wand was in my hand.
It was all up to me! I didn't need to suffer any longer …
I know for a fact that you too can turn your Pain into Power
My passion is to teach you how to take responsibility for your life, your happiness and your future; to show you the tools you can use to transform your current reality, set you on the road to a new life and to help you rediscover who you are and want you want to do now.
My successful book, BEYOND THE PAIN is an intimate look at the disillusionment you can face when a relationship ends. It teaches you how to rediscover yourself, take responsibility for your life and to reclaim your personal power to transform your life.
I can show you how to:
Break free from the pain of your separation or divorce
Learn how to reclaim your personal power through a series of step by step processes
Build a new identity which will form the foundation for your new life
Redefine your past so that it no longer has any power over you
Discover the wonderful woman you are
Create the life of your dreams through the power of choice
What does personal power mean to you?
Just picture the life of your dreams
Imagine what it would feel like to live it
How great would it be to discover your unique talents and use them to engage with others
Imagine being happy, joyful and confident every day of your life
Let your mind drift to all the wonderful new experiences you could create for yourself
Take a moment to think about the fabulous relationships you could build
There is a truth I want you to grasp.
Everything in your life comes from you.
You are the powerful creator of your life.
Why not start to create your life purposefully and knowingly?
"To start off with it was painful to see how my reactions to the events which happened around me had shaped my life. But once I grasped the concept of my own power, I was excited to see how changing my reactions and my choices would change my life!"  Bernice – Brisbane
Your life is shaped every moment by the choices you make
It is only as you take responsibility for your life that you discover how truly powerful you are!
And with responsibility, comes freedom!
Imagine … the freedom of
Waking up every morning excited about the day ahead
Living free of other people's expectations
Taking the time to decide what you want
Feeling like every moment is an adventure
Being fully present to enjoy every moment of your life
Sharing your joy with those you love
Exploring new opportunities
"I love my life and the new opportunities which have opened up as a result of harnessing my personal power and living with the freedom it brings. I can't wait for the rest of my life …"Maria – Cambridge
Sometimes it's more painful to stay exactly where you are than to take a leap to somewhere new.

Your Power and Create

Your Life with Purpose
We all have a moment when we decide to leave the past behind
and move towards the life of our dreams.
Is this your moment?
[twocol_one]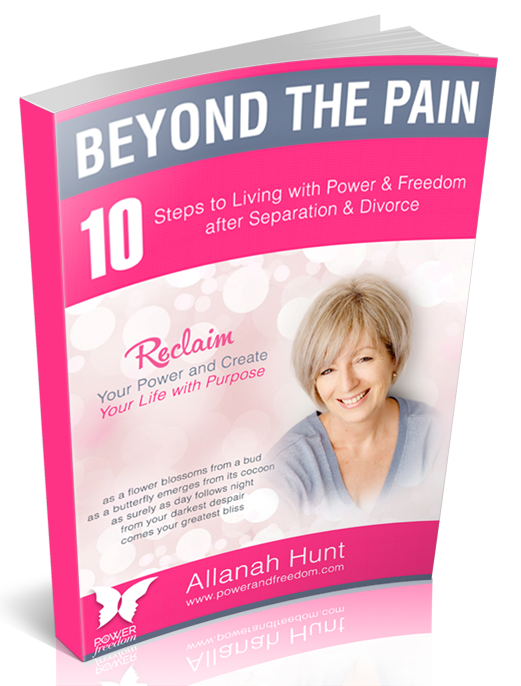 [/twocol_one]
[twocol_one_last]
Download


BEYOND THE PAIN


10 STEPS TO LIVING WITH
POWER & FREEDOM
AFTER SEPARATION & DIVORCE
for only $29 today

and receive my
POWER AND FREEDOM




AFTER SEPARATION AND DIVORCE


WORKBOOK
$14.95 value
ABSOLUTELY FREE

[/twocol_one_last]